Hello dear friends. It's Friday afternoon here and the weekend has started with a boom! The pool replaster guys arrived with their jackhammers and have begun attacking the pool.
In August, we will have lived in this home for eight years. It's the first home we've ever had with a pool and hopefully the last. It's basically a hole in the ground that takes a lot of money and upkeep. We are "do it yourself" people but this time, we had to hire a proper company to replaster the pool. You can see the total discoloration and erroding of the plaster.
The plaster team arrived just a little bit ago, all five of them with their air driven jackhammers and they are getting the job done of taking off the old plaster. Unfortunately, the whole pool system of heater and filter are over 25 years old, so we're having that system replaced too. This is for a couple (myself and husband), who maybe get into this pool twice a year. It reminds me of the boat we once owned. Luckily, we sold that boat. The pool I'm afraid is here to stay :)
I had a lovely week as my daughter took me to tea. It was part of my Mother's Day gift. I didn't tell you but my dear husband was in the hospital over Mother's Day. He's fine now - long story short he had been prescribed too many doses of antibiotics and it effected his system. Thank goodness for great medical care. He is fully recovered. It was scary.
My daughter and I enjoyed a lovely tea at the Tea House in an old house in San Juan Capistrano. We've gone there before and my it was a busy place that day.
On Saturday, I attended my Daughters of Norway lodge meeting. It was held at the Women's Club House in Dana Point. I love going to this club house as it's so old school from many, many years ago. Our dear member, Myrna, wore her Mother's bunad that was made by her family in Norway back in the 1960's. It's all hand embroidered; such fine detail, too. I loved the jacket that she also has as part of the ensemble. Myrna will be wearing this lovely bunad to the Grand Lodge Convention later this summer.
On Sunday, I hosted a dinner for some dear friends. We had a good time and my husband bar-b-qued steaks but the bar-b-que decided not to cooperate. No fear, as we finished them in the broiler. It was a nice evening.
I'm still working on finishing my knitted scarf but in the meantime I started this little needlepoint. I'm so late in coming to discover this wonderful needle art. I absolutely love needlepoint! However, the canvases can be quite pricey. So far, I've bought them on eBay and have had great luck. This is just a smaller one that I'm making from leftover tapestry wool. I changed up the colors a bit as I don't like bright colors.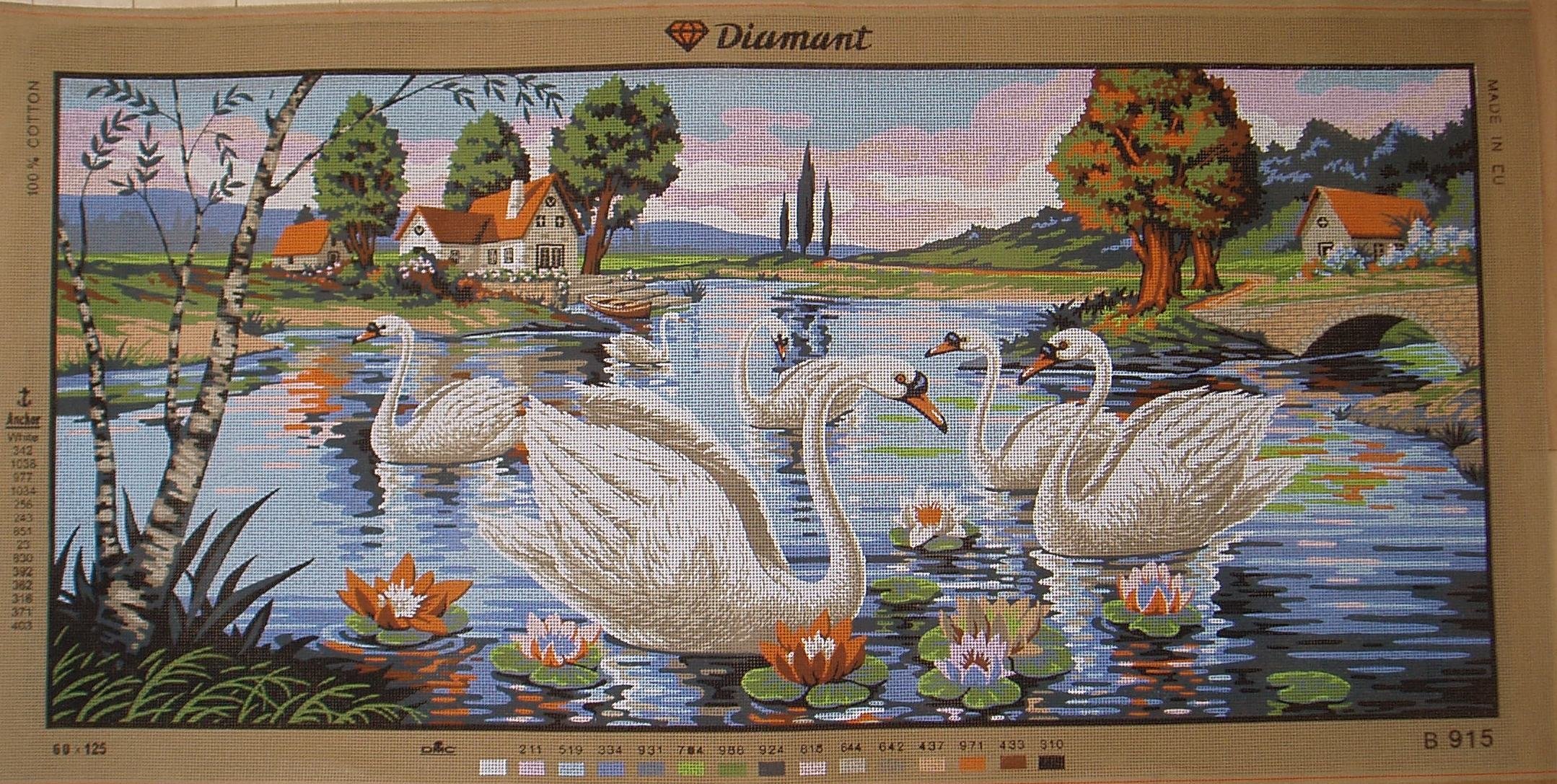 I found this canvas design on eBay through two different sellers. It's a very large canvas and when I decided to purchase it, it was gone. Luckily, after looking on the web, I found the exact same canvas at Goblen.com which is a Turkish website of all things. It is 60 cm x 125 cm.
And I also bought this little canvas as I love the oval design. In addition to the two shown above, I bought one more for my daughter. And, guess what I paid for all three? $61.00! It was a steal. Here's the catch; Goblen offers free shipping in Turkey so I had them shipped to my son's home there. But, if I were to have them shipped to the US via DHL, is would have been $24.00 shipping. It is still a great deal as the large swan canvas above was $99.00 on eBay.
The company offers all types of needlework products. I didn't buy the tapestry wool as I wanted to see if I had some of the colors in my stash. As it turned out, I was in need of some black tapestry wool and I hate to pay shipping charges. I found DMC Laine Colbert tapestry wool online at WalMart and had it shipped to my local WalMart store for free where I picked it up. It's quite puzzling to me why WalMart would carry such an item such as French tapestry wool?
Anyway, that's the update from Lilly My Cat. Lilly is as sweet and sassy as ever and she sends you all her meows and good wishes for a safe Memorial Day holiday!
PS - I hope I didn't bore you with my last two blog posts about investments and buying a home. I just have a real passion about these things and if I can ever help someone in some way then that's a good thing!