Hi everyone. I'm back again this week with a new post but I'm confused. I'll explain in a bit. . .
My son surprised me with a new phone and it's been fun exploring the different aspects of the camera (it automatically made the photo above from the photo shown at the bottom of this post). Earlier in the week, we had perfect weather for sitting outside. Today, the sun is out but it was a bit nippy early this morning, although I see it's warmed up to 68 degrees.
Here's what I'm confused about. I'm getting a new bed and mattress for the master bedroom. It's become a rather detailed job. I bought a new King headboard/baseboard online and it won't be delivered until sometime next week (hopefully). The bed shown above will be dismantled and put in one of the guest rooms.
Here's the newly painted wall in the guest room. Originally, I had made a artsy type headboard from two pieces of carved wood that had attached to the wall. Of course, we had to take them down and the wall needed to be patched and painted (by me, of course :) It's now ready to have the bed/mattress from the master bedroom moved in and set up.
But there's more. . . the queen mattress set that was in this guest room is now going to be sold. However, the box springs to this set belongs to the mattress in the downstairs guest room. So, another switch needs to be done.
It's become one job after another. Hopefully, the bed will arrive in perfect shape and we can put it together. I've already bought a set of new sheets (which I loved shopping for), along with a new blanket. But, I'm totally out of the loop when it comes to proper bedding. There are no "bedspreads" now days. All duvet sets. I'm going to enlist the help of my daughter, who is an expert on these things.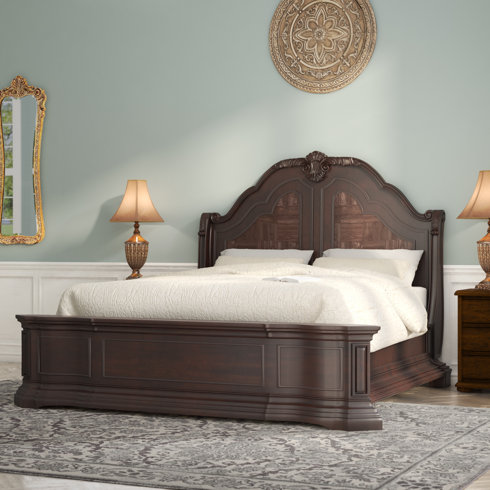 Here's the bed I ordered (photo courtesy of Wayfair). My daughter told me it looks like what old people like! That's OK as I'm happy to be old.
Last but not least, we have to buy a new mattress! Luckily, I live in an area where there's lot of choices. Too many choices, maybe. I think I'll go with Costco as they have an excellent price on a brand I want and a no hassle return policy. And, best of all, they deliver and place it on your bed for free!
Oh, there's a little more to this story. My dear husband helped my son take the mattress from the guest room out to the garage. I didn't think much of it. But, yesterday, he had terrific chest pain and couldn't breath. We went to the ER last night and thankfully, he checks out OK. We're thinking it's because he lifted and used some muscles he hadn't used in a long time.
I'm hoping this saga of the new bed will soon be over.
Sending everyone my best wishes,
Pat